Customized for your laptop
At PersonalizedLaptopSleeves.com, we provide an array of Custom Laptop Bags for our customers. We understand that everyone is an individual, and our sleeves are designed to show the laptop owner's unique style and personality. Moreover, protect your laptop from nicks, scraps and scratches.

Our Zipper Laptop Sleeve is a must have sleeve for any serious laptop owner. It is made from high-quality neoprene material that is commonly used to make wetsuits, and this particular sleeve comes with zippered closure. We can customize this laptop sleeve to include your log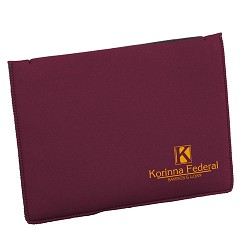 o.
We can print:
1-color logos
Multiple color logos (additional fees apply)
Choose your perfect case from a variety of stylist colors currently available in our Custom Laptop Cases. Select the color that matches your personality, and put your laptop on display for the world to see and admire.

A laptop is not just for work anymore. Your laptop makes a statement about you the person. Our sleeves will tell the world that you are going places, deserve notice, and care about protecting your laptop. Show off your sleeve at work, school, the library, meetings, and a variety of other places. Become the center of attention when people ask about your laptop sleeve! Discover the benefits of the added protection and security that our Custom Laptop Carrying Cases will provide during your day-to-day movements from location to location with your laptop.
Some of our custom laptop cases come with a zippered sleeve and others have a stretchy pocket that allow your for snug protection and unique style. Most of our sleeves are printed in the USA, but all of our sleeves surpass quality required by even the toughest critics.